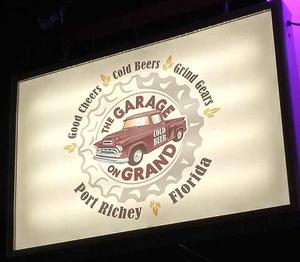 Garage on Grand
7803 Grand Blvd
Port Richey, FL 34668
(727) 232-2815
Map View:
Click here
Pete and The Ladies have been slinging drinks for many years! The Garage on Grand is their new home. Come enjoy great company and cold beers for an affordable price. The drinks may be cheap but the memories made will be priceless!

The bar has an old garage feel, but is up to date with the times. Inside you will find games and TV's and a relaxed seating area. On the patio you'll find fresh air and live music often. Check out our Facebook Page for more details on live events!

We look forward to seeing ya at the bar!

Upcoming Events
Artist
Date
Past Due
Blues, Classic Rock, Rock, Rockin Blues
Sat, November 26
6:00pm - 10:00pm



Past Events
Artist
Date
Past Due
Blues, Classic Rock, Rock, Rockin Blues
Debut!
July 29, 2022
6:00pm - 10:00pm
TC and Sass
Funk, High Energy Dance, Pop, Rock
May 27, 2022
6:00pm - 10:00pm
Beachbillies
Classic Rock, Country, Reggae, Rock
Beachbillies Trio
April 29, 2022
6:00pm - 10:00pm
Electric Woodshed
Classic Rock, Jam Band, Rock, Southern Rock
Kids Of Pasco Charity Event
November 27, 2021
6:00pm - 10:00pm
S.O.B.S
Acoustic, Bluegrass, Country, Folk
November 25, 2020
7pm - 11pm