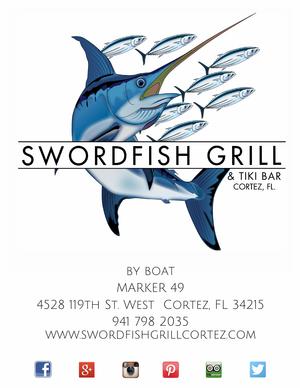 Swordfish Grill and Tiki Bar
4628 119TH ST W
Cortez, FL 34215
(941) 798-2035
Map View:
Click here
We're on the WATERFRONT,
INSIDE & OUTSIDE CASUAL DINING,
LIVE MUSIC 7 NIGHTS A WEEK
Welcome to Swordfish Grill. Located in Historic Cortez Fishing Village. The Swordfish Grill serves up waterfront dining featuring the finest foods with exciting dishes and unique ambiance.
Located on Sarasota Bay on the fishing docks accompanied by the commercial fishing fleet as well as local charter boats, Swordfish Grill exudes a character that is the perfect mix of Old Florida and the Freshest Local Seafood.

Upcoming Events
There are no upcoming events scheduled.



Past Events



Sun, November 10, 2019
3pm Stone Crab & Music Festival
Blues

TC & the Troublemakers
Sun, November 10, 2019
5pm Stone Crab & Music Festival

Stockton Bros.
Sun, November 10, 2019
1pm Stone Crab & Music Festival

Sun, November 10, 2019
4pm Stone Crab & Music Festival
Rockin Blues