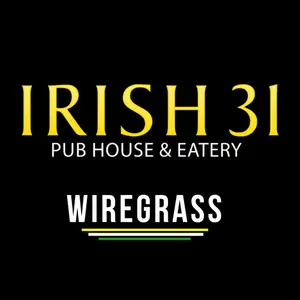 Irish 31 Wiregrass
28358 WILLET WAY
Wesley Chapel, FL 33543
(813) 907-2306
Map View:
Click here
Most game-changing concepts once started with a very simple story and a very simple goal. We are no different. In 2011, we created Irish 31 to be the first Irish Pub that you can find in every city in America. For some reason, it hadn't been done before, so one community at a time, we are bringing a passion for food, sports and community to a place near you.

If you are looking for a chef-inspired dish, we've got you covered. We have fast become known as the "The People's Pub." We didn't label ourselves this, it was earned. The Irish 31 brand begins and ends with a passion for the community. Our guests are our family, our friends, our comrades…and we will never stop striving for excellence through exceptional food, legendary service, and a commitment to the highest of standards deserving of every person that walks through our doors. At Irish 31 we will never claim to be the biggest place, just the best, and we can't wait for you to experience "The People's Pub" for yourself.

Upcoming Events
There are no upcoming events scheduled.



Past Events






Cerulean Songbird
Fri, August 23, 2019