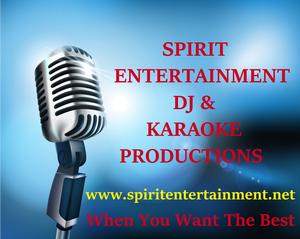 Spirit Entertainment DJ & Karaoke Productions
DJ/Dance/Electronic , Karaoke

Proudly providing the BEST in DJ & Karaoke Entertainment for over 17 years.
SPIRIT ENTERTAINMENT has gained a reputation for going above and
beyond expectations to guarantee the highest quality entertainment for all occasions.
Not only do we provide professional DJ services but also top-quality Karaoke shows at no additional charge. During Karaoke shows, party guests are encouraged to get on stage for their "moment of glory" and sing. Dance music is played between singers to get everyone involved in the activities.

Upcoming Events


Fri, June 5, 2020
7:00 - 11:00
Riverview

Fri, June 19, 2020
Riverview

Fri, July 3, 2020
7:00 - 11:00
Riverview

Fri, July 17, 2020
Riverview

Fri, August 7, 2020
7:00 - 11:00
Riverview

Fri, August 21, 2020
Riverview

Fri, September 4, 2020
7:00 - 11:00
Riverview

Fri, September 18, 2020
Riverview

Fri, October 2, 2020
7:00 - 11:00
Riverview

Fri, October 16, 2020
Riverview

Fri, November 6, 2020
7:00 - 11:00
Riverview

Fri, November 20, 2020
Riverview

Fri, December 4, 2020
7:00 - 11:00
Riverview

Fri, December 18, 2020
Riverview




Previous Events


Fri, May 15, 2020
7:00 - 11:00
Riverview

Fri, May 1, 2020
7:00 - 11:00
Riverview

Fri, March 20, 2020
7:00 - 11:00
Riverview

Fri, March 6, 2020
7:00 - 11:00
Riverview

Fri, February 21, 2020
7:00 - 11:00
Riverview