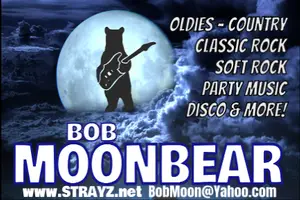 Bob Moonbear
Blues, Classic Rock, Country, Easy Listening

Bob Moonbear previously performed for over 40 years in the South Jersey/Jersey Shore/Philadelphia Metro areas and beyond. In January of 2016 he retired to Manatee County and has begun performing again in this area and is already building a following here in Florida. He performs solo with a very believable full band sound using top of the line sound reinforcement and digital music reproduction. He also performs with Coastal Remedy Duo, Jerzey Boyz Duo, Melanie Massell & Co, Massell-Moonbear Duo, Mojo 5 and is a sub when needed for The Karen & Jimmy Band. He has also worked with The Accidentalz, Hot Item and The IPA Band. Bob believes in including the audience and making them part of the show by interacting by encouraging them sing, shout and dance! Fun and quality music are the ultimate goal.
He honed his entertainment skills in the New Jersey and Philadelphia Metro areas playing in top clubs and casinos with top local bands. In the past he has worked alongside members of popular bands such as The Spiral Staircase, Danny &The Juniors, Chubby Checkers, Soul Survivors and more. Bob's target format is 40+ adult oriented oldies and classics from the 40's to current, Motown, R&B, Disco, Country (line dance included), southern and classic rock. He can adapt to the crowd on hand. Bob can transform from a 60 and over audience, playing oldies and standards, to a soft popular hits format for restaurants. He can also easily accommodate a classic rock crowd, utilizing a song list of over 1200 songs in most popular genres.

Upcoming Events
There are no upcoming events scheduled.



Previous Events