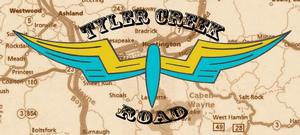 Tyler Creek Road Band
Country

Tyler Creek Road is a country band that has emerged as an eclectic powerhouse of contemporary music. While retaining their country music roots, the band has now incorporated classic rock, southern rock and blues into their overall sound. Tyler Creek Road now performs music as diverse as the Allman Brothers to B. B. King to George Strait.

With a lineup of powerful vocals by Elliott Ambrose and the incendiary lead guitar playing from Ronnie Ray, Tyler Creek Road has become the premier live-performance band of West Central Florida. Behind it all, bassist George Gurganus pounds out powerful bass lines, and the drum rolls by Murray Moore keep it moving to complement the Tyler Creek Road sound.

Upcoming Events
There are no upcoming events scheduled.



Previous Events