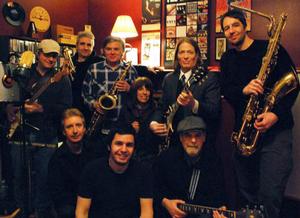 Brad Vickers and His Vestapolitans
Blues , Rockin Blues

The Vestapolitans, offers a good-time mix of originals and covers spanning blues, ragtime, hill country breakdowns, and more great American roots 'n' roll. A great new CD, "Great Day In The Morning" (2013). joins "Traveling Fool" (2011), "Stuck With The Blues" (2010), and "Le Blues Hot" (2008). All have met with terrific reviews, radio play on 250+ stations (all are still in rotation on Sirius XM Bluesville). Best of all, audiences love them!

Upcoming Events
There are no upcoming events scheduled.



Previous Events


Wed, March 18, 2020
7pm $5.
Englewood

Sat, February 9, 2019
9:00pm
Dunedin

Thu, February 7, 2019
7:30 to 10:30 pm $5
Sarasota

Wed, February 6, 2019
7:00pm
Englewood

Sat, February 17, 2018
8 to 11 pm $5
Sarasota