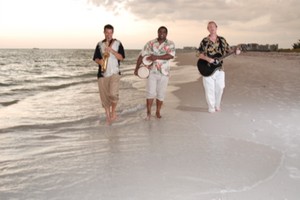 T-Bone Trio
R&B/Soul, Reggae

The T- Bone Trio features Terry (T-Bone) Rhodes on percussion and lead vocals. Chad Conte on saxes, flute, and vocals and George DeJong on keyboards, guitar and vocals The Trio specializes in songs from Motown, Tropical, Reggae and Dance music. For the past year the Trio has been building a fine following, playing all over beautiful southwest Florida.
The T- Bone Trio captures the vintage sound of the Motown era. Songs by The Temptations, Four Tops and Marvin Gaye come to life with the soulful vocals of T- Bone and harmonies by Chad and George. They also play Rock & Roll and provide a nice variety of uptempo, fun songs that everyone recognizes and likes.
T- Bone has entertained for many years. He was the lead singer of popular New York City band The Sophiscates. Gainesville Florida band The Future Urban Zoo and Sarasota's Vine Street Band. He has performed musical theater as well. He is currently the host of a radio show called "Music Scene and Be Seen" about the Sarasota music scene on WSLR 96.5 FM every other Saturday from 5pm to 7pm. A dynamic performer, T- Bone has the crowd shouting for more at every show.
George DeJong has performed with some of the biggest names in the music business. He was a member of Herman's Hermits starring Peter Noone for over 12 years, touring the world with them. He has also performed with Sam Moore from the legendary soul group Sam & Dave and Micky Dolenz from the world famous band, The Monkees.
Chad Conte has been the band leader of the local group, Straight Up and plays an assortment of different saxophones and flute. Chad enjoys going into the audience with the wireless microphone on his sax and taking the music right to the people at the show.
If you want the music at your next event or party to be really special, then The T- Bone Trio is the group for you.

Upcoming Events
There are no upcoming events scheduled.



Previous Events