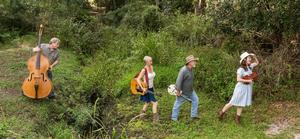 Stumble Creek
Bluegrass


The Stumble Creek Station are some of the areas best pickers who have come together to create their own energetic, jammy bluegrass.

Upcoming Events
There are no upcoming events scheduled.



Previous Events


Sat, November 23, 2019
1 pm
St. Petersburg

Sat, November 16, 2019
9:00am Chalk Festival $Tickets
Venice

Thu, October 24, 2019
4:00 p.m.
Sarasota

Thu, September 26, 2019
6:00 PM - 9:00 PM
Sarasota

Thu, August 22, 2019
6:00 PM - 9:00 PM
Sarasota