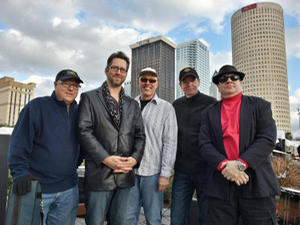 Acme Jazz Garage
Blues , Jam Band , Jazz

"...a local supergroup comprising reputable jazz and funk musicians" - Creative Loafing

"... a jammy, jazzy, organ-driven group made up of local favorites. Looking for a comparison? Medeski Martin and Wood is a good place to start" - Ultimate Local Music Guide, TBT (Tampa Bay Times)

Jazz, blues, funk, rock, New Orleans R&B, fusion and jamband styles meet in the music of ACME JAZZ GARAGE, whose recordings have been heard on WMNF, 88.5 FM and WUSF, 89.7 FM.

Acme Jazz Garage features guitarist Matt Swenson, drummer Tim Diehl, bassist Philip Booth, keyboardist Mike Aloia, and, on some gigs, saxophonist Rick Runion.

Upcoming Events
There are no upcoming events scheduled.



Previous Events


Fri, November 29, 2019
7-11pm
Tampa

Thu, November 28, 2019
7-10pm
Tampa

Fri, November 22, 2019
7-11pm
Tampa

Thu, November 21, 2019
7-10pm
Tampa

Fri, November 15, 2019
7-11pm
Tampa