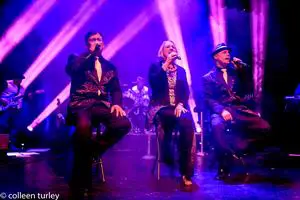 J3VocalBand
Pop, Rock

The Johns family (J3) traveled for more than 15 years in the Southern Gospel Industry. While taking a hiatus from traveling, the family had an opportunity to form an "oldies" band and the J3 Vocal Band was established.

Featuring songs from the 50s, 60s & 70s, The Johns family, Dennis, Bonnie and Chad are more than a family that sing together, as they are joined by some of the best musicians you will hear. J3 is focused on that smooth beautiful family harmony while the band; Keith on keyboards, Jeddy on drums, Johnny on lead guitar and Darrell on bass, use their own unique style to help bring each song back to that special memory of years past. With wardrobe changes, choreography and maybe a little comedy, you'll have an unforgettable experience. No two shows are the same with J3VB. You will hear those favorites along with a few that you might have forgotten, but are sure to bring a smile to your face. Fans can go back in time and sing along with all the hits they grew up with. You'll feel like twisting away with the upbeat songs and personalities as the J3 Vocal Band delivers an exciting, moving and memorable experience, while keeping true to each songs original impact.

Upcoming Events
There are no upcoming events scheduled.



Previous Events
Venue
Date
Polk Theatre
Lakeland
Sat, December 21
7pm
$Tickets