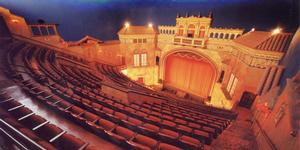 Polk Theatre
121 S. Florida Avenue
Lakeland, FL 33801
(863) 682-7553
Map View:
Click here
The Polk Theatre was built during a golden age in the United States - the stock market had yet to crash (though the boom had ended in Florida) and the clouds of World War II were not yet on the horizon. Even so, it was quite a leap of faith to build a vaudeville/movie palace in Lakeland in 1928. The population hovered at only 15,000 people and it was a rural community.

So build it they did, and it was a place of magic and wonder! The architect, J.E. Casale, an Italian-born immigrant, recreated a Mediterranean village in the heart of Central Florida. Flanked by Italianate walls with niches, sconces, and faux balconies and windows, the patron's eye was drawn toward the stage and the full scale Italian renaissance "townhouse" setting that dominates the Polk's interior.

All of this splendor sat under the watchful eye of a starry ceiling. Painted a deep, royal blue, it fascinated patrons with its twinkling stars and sunrise/sunset effect. Because this simulated a natural setting, it was called an "atmospheric" theatre.

Upcoming Events
There are no upcoming events scheduled.



Past Events
Artist
Date
J3VocalBand
Pop, Rock
December 21, 2019
7pm
Purple Xperience
Pop, R&B/Soul
September 24, 2016
8:00 pm