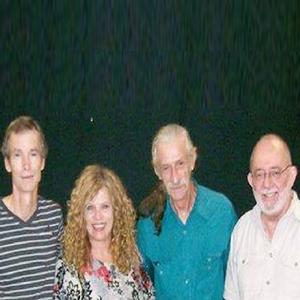 Moses Greyhound Band
Blues, Pop, Rock

The Moses Greyhound Band is live entertainment at its best. This versatile 4 piece band can entertain audiences of all types. They were a mainstay with Carnival Cruise Lines for 13 years, and have played anything from deck parties and fine dining to biker rallies and concert halls. All are extremely talented musicians and vocalists, and put their own unique sound into every song they play, whether it be rock and roll, country & bluegrass, southern rock, rhythm & blues, or jazz & easy listening. Call 352-270-0151 or 352-344-8984 for booking.
Stephanie Fisher is a multi-talented musician/singer originally from Montana. but has called Florida home a number of years. Playing in the Billings Symphony as a very young age, Stephanie's interest soon turned to a variety of different styles of music, one being fiddling, where she has won several awards. After moving to Florida, she performed in many different venues ranging from the Innisbrook Golf & Tennis Resort in Tarpon Springs for over five years, as well as many other hotel resorts, to opening up concerts for artists such as Michael Martin Murphy, and Asleep at the Wheel. To her credits are many original recordings, including two that were on the Independent Charts and one achieving Noteworthy Status in Billboard Magazine.
Roger Hale is a gifted guitar player and singer with an extensive background ranging from artist to recording studio engineer/producer. Originally from Virginia, he has lived in Florida for many years. He has opened up concerts for numerous artists like the Rolling Stones and Roy Orbison, as well as being the lead guitar player for Billy Joe Royal. As an artist himself, Moses attained southeastern regional status with his song "Take Me Back to Birmingham", which reached #35 on the national charts. He has many credits in the studio, recording artists such as Joanne Castle from the Lawrence Welk Show. Moses is well versed in many styles of music.
An Evansville, IN native, Jesse Wininger was blown away when the BEATLES invaded the U.S.A. and thus a lifelong drummer was born. He has made his living with Rock & Country bands since 1972. Jesse lived in California in 1980 & played in a house band with Terry Christoffersen , Buck Owens steel guitarist around the time of the mechanical bulls and "Urban Cowboy " craze. He now resides in Central Florida doing shows in that area. Jesse plays Pearl drums, Zildjian cymbals, Gibraltar hardware.
Ron Resler was born in Illinois and moved to Florida as a teenager where he began music studies, playing clarinet, tenor sax, trombone and bass. He soon began playing professionally in the central Florida area. Studies resumed next at Stetson University, and finally at University of South Florida where he received a BA in Humanities with a minor in Music. Ron played clubs in the Tampa area as well as touring the southeast playing college concerts with a jazz trio. Bass became his instrument of choice and he continued to play locally and on the road with rock, rhythm & blues, and jazz groups. During a stint with a local production company he played and produced many TV and radio commercials and records including one 4-million seller. Moving back to his home in Clermont he continued to work the central Florida area where he reconnected with old friends Roger Hale and Stephanie Fisher and is proud to be included in this fine group. An eclectic list of artists Ron has worked with includes Hank Ballard & the Midnighters, the Drifters, the Ramsey Lewis Trio, and Dinah Shore.

Upcoming Events
There are no upcoming events scheduled.



Previous Events