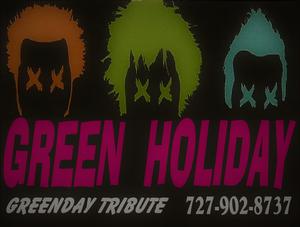 Green Holiday - Green Day Tribute
Punk

A passion project by Ev V Frederick for his love of Punk. What started as 6 songs in the F19 Band set, has grown into a 26+ song show and the birth of Green Holiday a high energy (BLUE and BUNNY INCLUDED) tribute to one of the best punk rock bands ever.

Upcoming Events
There are no upcoming events scheduled.



Previous Events
Venue
Date
Neptune Lounge
Tarpon Springs
August 23, 2019
7PM F19 & A TRIBUTE TO GREEN DAY
$5
Skinny's Bar and Grill
Hudson
August 17, 2019
9pm F19 and Green Day Tribute

Seaside Inn
Port Richey
August 10, 2019
9pm F19 and Green Day Tribute