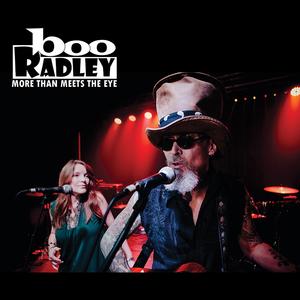 Boo Radley
Acoustic, Americana, Folk, Indie

BOO RADLEY
ORIGINAL • ACOUSTIC • AMERICANA

Peter Cooper, Music Editor of the Country Music Hall of Fame in Nashville, TN, has this to say about Boo Radley's original music: "'Boo Radley' is something special. I really enjoy this music and want to hear much more. It's really, really good."

Boo Radley's original songs highlight the songwriting skills, sophisticated harmonies and guitar work, and true passions of the acoustic duo, comprised of Michael Shawn Turner and Patricia Matson-Turner. Meaningful lyrics, high-quality, well-rehearsed vocal harmonies, and Turner's intricate playing on his warm, full-bodied acoustic set Boo Radley apart. Their songs, speaking to modern-day and sometimes personal issues, resonate with audiences young and old. Having endured many hardships together, Michael and Patty can give validity to the emotions expressed through their music. Ranging from soft ballads to more hard-driving acoustic songs, their music has proven to thrive through Boo's live performances.

Michael and Patty have decades of stage experience between them. At the close of the '90's, Michael achieved stardom in Manila, Philippines, as songwriter, guitarist, and lead singer for two mainstream rock bands: first The Breed, then Battery. They enjoyed national attention, including 2 music videos on MTV-Asia. Michael was also a published songwriter in the Philippines, with his songs being recorded by two multi-platinum artists. For many years Patty performed in the Mid-Atlantic Region as the lead singer of various rock and variety cover bands.

The two met in Tallahassee, Florida, and became fast friends. Michael asked Patty to help write a song for another artist, and in one afternoon they wrote what is now the title track of their newly-released first commercial EP, "More than Meets the Eye." It wasn't until a few years later, though, in April 2014, that they decided to create Boo Radley, and make their living with their music. They haven't looked back since, and have performed more than 475 live shows together.

The recording of 'More than Meets the Eye' took place in December 2016 at the iconic Treasure Isle Recorders, Inc. in Nashville, Tennessee, owned by Fred Vail, legendary manager of The Beach Boys. At the engineering helm of Boo's EP was Peter Coleman, yet another industry giant, and the back-up musicians were among Nashville's finest! The EP is being enthusiastically received by music industry executives, radio and print personnel, as well as everyday listeners.

VENUE OWNERS ON BOO RADLEY PERFORMANCES:

Matt Gardi, Owner, Bowery Station, Apalachicola, FL:
"Patty and Michael always create a music appreciation environment with their attention grabbing vocals and skillful guitar that takes us on a tour of well written originals, all of which weave a tale defining their own style. It's been dubbed "New 850 Americana" as they lead the region in a sound that finds its roots in a variety of genres that this area of the country is known for."

*******************************************************************

Debbie Dix-Bishop, New Posh Listening Room, Crawfordville, FL:
"Boo Radley presented another amazing show at New Posh...We LOVE this amazing duo! Their engaging originals, about life stories that are so easy to relate to, and the presentation of meaningful lyrics that are masterfully simple, yet deeply profound, is always a joy to hear. Their tight vocal harmonies, eclectic combinations of musical styles, and Michael Shawn's flawless guitar rhythms, rifts and interesting progressions, bring out and highlight the very best instrumental language to accompany their lyrics. Their spontaneously choreographed movements demonstrate a chemistry that can only be accomplished between stellar musicians who have a presence that transcends far beyond those musicians who practice only, and perhaps do not possess the love and respect demonstrated between this couple…The icing on the cake, is the relationship they so effortlessly forge with their audience; they are authentic, honest, personable, interesting, and by the end of an evening with them, every person feels like they have found a new friend, or reconnected with an old or current friend.... Boo Radley is definitely "Listening Room" entertainment, far surpassing the unconscious bar scene."
Thank you for your interest!
Be sure to catch a live 'Boo Radley' performance soon!

Upcoming Events
There are no upcoming events scheduled.



Previous Events