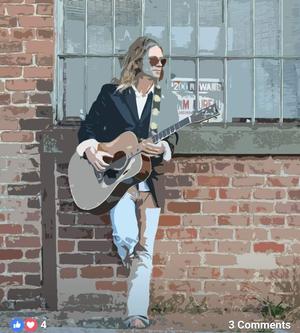 Wynn Taylor
Acoustic, Alternative, Americana, Blues

ABOUT>
A singer, a songwriter, a traveling troubadour. Whatever you call him, you can find Wynn Taylor at many venues across the country. Presently located in Bradenton Florida, performing every Saturday night at 3 Keys Brewery & Eatery. Nashville is his musical base and Austin, Texas is a favorite place as well. Wynn also plays his hometown of Lexington, KY. often, where this past summer he had the pleasure of being featured on Red Barn Radio.

Playing solo or with his Nashville trio, whatever town the stage is located in is Wynn's favorite place to play.

A proud veteran of the U.S. ARMY, Wynn served in Operation Desert Shield and Operation Desert Storm. He performs with other combat vets as member of the Nashville based #Stop22Tour.

Performing his own brand of soulful roots based music, he has opened for many great acts such as Leon Russell, Guy Clark, Rhett Miller, NRBQ, and Hank Jr's Bama Band.

You may find him in your area soon but until then, feel free to browse his website, connect to his YouTube Channel and visit his page on RevberbNation.

Most of all, thank you for supporting independent music!

Upcoming Events



Previous Events