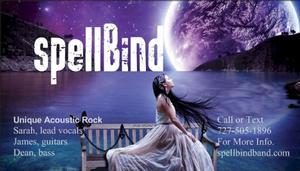 spellBind band **Inactive as of 1/9/20
Acoustic , Alternative , Blues , Classic Rock , Contemporary , Easy Listening , Folk , Pop , Rock

Unique Acoustic Rock Group

spellBindband.com
@spellBindband

Club owners say that their song selection is uniquely refreshing, playing new songs you won't hear from other bands.

Call or Text 727-505-1896 for bookings or questions.

Upcoming Events
There are no upcoming events scheduled.



Previous Events


Sat, November 17, 2018
8pm-10pm
Port Richey

Sat, November 10, 2018
8pm-10pm
Port Richey

Sat, October 27, 2018
8pm-12pm
not disclosed

Sun, September 16, 2018
6pm-10pm
not disclosed

Fri, August 31, 2018
8:00pm
Port Richey