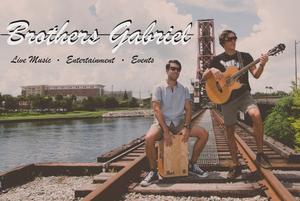 Brothers Gabriel
Acoustic , Alternative , Reggae


"Real life brothers, real live music"- it's not just a slogan, it's what Brothers Gabriel is all about. Christian and Nico Gabriel have been playing music together since childhood and now they're ready to bring their unique reggae rock acoustic sound along with new takes on classic songs to the West coast of Florida. Growing up across the state the brothers were always involved in music through school and personal projects leading to the inevitable decision to play anywhere and everywhere they can. With Nico on vocals/guitar and Christian on vocals/cajon(drum box) come see these brothers do their favorite thing, play music just for you!

Upcoming Events
There are no upcoming events scheduled.



Previous Events


Tue, February 4, 2020
6pm
St. Pete Beach

Tue, January 28, 2020
6pm
St. Pete Beach

Tue, January 21, 2020
6pm
St. Pete Beach

Tue, January 7, 2020
6pm
St. Pete Beach

Sat, December 28, 2019
1:30 PM $n/a
St. Pete Beach