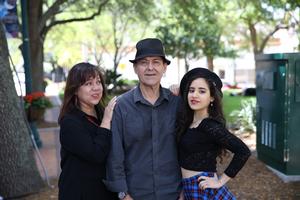 Vinyl Lovers Trio
Contemporary, Jazz, Latin, Pop

We are the Barake family. Long before I was born, my parents Rafael & Astrid completed their musical studies at the Madrid Royal Conservatory. Shortly thereafter, they decided to pursue a jazz education in New York City, where they were based for many years not only as performers but also as teaching artists at The American Institute of Guitar. Later on, I, Naimah came into their lives. I grew up surrounded by an eclectic mix of styles including but not limited to Jazz, Blues, Rock, R&B, Pop, Classical and World music. We've been all over the country as live music entertainers and hope to keep growing in our career. Our current stop is Sarasota, FL. We are very excited to be here and have high expectations for our new chapter in this wonderful city.

Upcoming Events
There are no upcoming events scheduled.



Previous Events