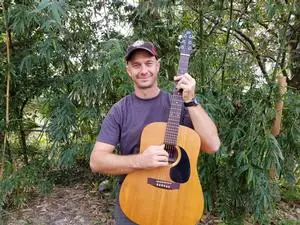 Andy Bryant
Acoustic , Alternative , Americana , Bluegrass , Blues , Classic Rock , Country , Funk , Reggae , Rock , Rockin Blues , Southern Rock , Surf Rock


I am a full time firefighter and a smoking hot guitarist. I have a great solo act show that incorporates acoustic and electric guitars, singing, looping, harmonica playing, beat-boxing, harmonies, and sometimes some banjo picking. I play a good variety of music that includes beach music, classic rock, country, 90's rock, and more.

Upcoming Events
There are no upcoming events scheduled.



Previous Events


Fri, February 14, 2020
5:00 p.m.
Tarpon Springs

Wed, February 5, 2020
5-8
Port Richey

Thu, January 30, 2020
6-9 PM
Port Richey

Fri, January 10, 2020
5:00 p.m.
Tarpon Springs

Thu, January 9, 2020
4:30-7-30
New Port Richey