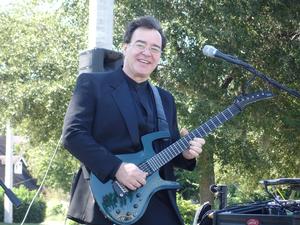 Sounds of John Rinell
Beatles, Classic Rock, DJ/Dance/Electronic, Pop

Featuring
JOHN RINELL
Vocalist Guitarist Steel Drum and DJ!
John Rinell (941) 722-8843
JohnRinell@gmail.com

50's & 60's Sock Hop Dance - A Night of Golden Oldies featuring the DJ & Live Entertainment of Solid Gold Entertainer John Rinell!
Relive the memories of those great years when Rock & Roll was King! 50s & 60's Party Rock & Roll is alive & well and enjoyed by fun-loving people of all ages.
A John Rinell Golden Oldies night is just the ticket for a great event of dancing and great music memories!

The Romance of the Caribbean - A beautiful theme for your event featuring Solid Gold Entertainer John Rinell! The traditional sounds of the Caribbean Islands played on real steel drums by John will turn your event into a Pina Colada Party! Add to this John's great vocals & guitar on Jimmy Buffet favorites! And more tropical themed songs for the fun & romance of the beautiful Caribbean Islands!

The Golden Voice! The Frank Sinatra Tribute show! Solid Gold Entertainer John Rinell shares a lot in common with Frank Sinatra. Both born in Hoboken and both are great singers! John has been performing Frank Sinatra songs since his teens! An authentic tribute to the great "Chairman of the Board!" A sensational matching, voice for voice! It is John Rinell at his very best! A masterful tribute to his hometown hero Frank Sinatra!

Let's Have an Irish Party! Authentic Irish melodies & songs by Solid Gold Entertainer John "O" Rinell! John's great vocal ability shines here as an Irish Balladeer! Close your eyes and you will feel like you're back in beautiful Ireland with many great Irish classic songs and of course the great, "Danny Boy!"

La Musica Italiano! Monge!(Enjoy!) the beautiful Italian songs & stylings of Dean Martin, Jerry Vale, Mario Lanza, Jimmy Roselle and Louie Prima! Solid Gold Entertainer John Rinell offers a great night of Italian music for dancing & sing-a-longs! Mama Mia! Neapolitan & 16th century art songs mixed with popular Italian American Classics for a little trip to Italy.

70's Classic Disco! Yes Its Ladies Night - Get your dancing shoes (platforms?) ready for the super hits of the Saturday Night Fever era of the 1970s! All the classic songs pumped to you with great sound by Solid Gold Entertainer John Rinell!

Classic Country Music Jamboree - Solid Gold Entertainer John Rinell will make you feel right at home with down home Classic Country Music! Featuring songs by great country artists like Johnny Cash, Willie Nelson, Eddie Arnold, Don Gibson, Glenn Campbell, Kenny Rogers, Patsy Cline, Hank Williams! From the Grand Old Opry to your country themed event!

Strolling Guitarist & Balladeer - Solid Gold Entertainer John Rinell's Strolling guitar and vocals! Pure unplugged portable natural singing and playing! Table to table or perhaps on a boat or beach! Versatile and available for virtually any event! Music that comes from a wooden box strung with silver wire.

Cavalcade of Stars! Hit songs of many legends! Michael Buble', Tony Bennett, Elvis Presley, Engelbert, Neil Diamond, Roy Orbison, Dean Martin, Elton John & Frankie Valli all beautifully performed by Solid Gold Entertainer John Rinell!

Hootenanny 60's Folk Rock - The original unplugged! In the mid-60's names like Bob Dylan, Peter Paul & Mary, The Kingston Trio, Phil Ochs, and The Mitchell Trio w/ John Denver hit the scene in Greenwich Village, and the folk revival & meaningful songs that followed changed music forever. Relive those days with Solid Gold Entertainer John Rinell!
Jazz Brunch Trio- Smooth & cool music! Life is a lot like jazz... it's best when you improvise. Featuring Solid Gold Entertainer John Rinell on jazz guitar and vocals for that refined Jazz… Touch!


Additional Themes- Halloween Theme, Banjo Old Time Sing-a-Long, Americana Red White & Blue Patriotic, Most Memorable Tunes of the 1890s-1940s, Hawaiian/Polynesian Luau - Aloha! Escape to the islands and find yourselves immersed in an authentic Hawaiian/Polynesian show complete with repertoire of dance music, hula dancer & audience participation. Featuring "Over the Rainbow" performed live with ukulele! Christmas Music w sing-a-longs/Christmas Carols, Jimmy buffet sing-a-long, Sopranos Night, Safari Theme, Titanic Night… etc!

Upcoming Events
There are no upcoming events scheduled.



Previous Events