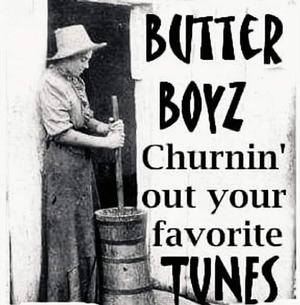 Butter Boyz
Blues, Funk, R&B/Soul

The Butter Boyz made up of 4 seasoned players who have come together to play the Blues, Funk, R&B, Motown and Soul.

The Butter Boyz made up of Ron Scrimo on keyboards, Steve Lasner on guitar, Calvin Cratic on drums and Ben-jamin Sudano on bass. Many years of experience coupled with a great work ethic makes The Butter Boyz a pleasure to work with. Always professional and always punctual. The Butter Boyz are sure to get the crowd moving onto the dance floor and not out the door. As a matter of fact, the Butter Boyz fans seem to stay all night. Why? Because you never know what they're going to play for the audience. Such a great repertoire of music to get your feet stomping and your heart beating with meter perfect rhythm. Lead vocals are exceptional from all 4 members of the band. Great harmonies are such a pleasure from such good singers and many years of practice.


Upcoming Events
There are no upcoming events scheduled.



Previous Events