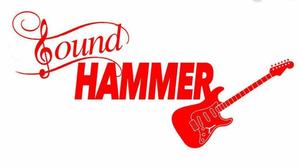 Soundhammer
Classic Rock, Metal, Pop, Punk, Rock, Southern Rock, Swamp Pop


Band Members:

Pat Calabrese - Bass/Vocals
Craig Boyne - Guitar/Vocals
Bill Talon - Percussion
Robert Pop - Guitar
A.J. Kelly - Vocals

A line up of hard-hitting, in your face musicians delivering the sounds of Led Zeppelin, Van Halen, Whitesnake, Sammy Hagar, and Scorpions to name a few, as well as some classics from Bad Company, Eric Clapton and Aerosmith

If you want an old school rock and roll show, this is it.... The Line up changes from time to time, but the show goes on

Next time you're on Long Island, look for our sister band "Islip Rewind" and catch the same great show with the same great players!!



Upcoming Events
There are no upcoming events scheduled.



Previous Events


Sun, May 27, 2018
1:30PM - Margarita Festival $General Admission
Tampa

Sat, May 26, 2018
8:00 PM
New Port Richey

Fri, February 9, 2018
8:00PM $0
New Port Richey

Wed, December 13, 2017
8:00PM - OPEN JAM $0
New Port Richey

Wed, December 6, 2017
8:00PM - OPEN JAM $0
New Port Richey