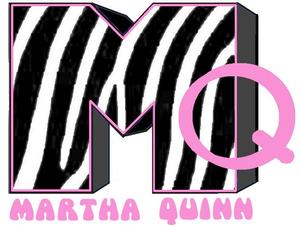 Martha Quinn Band
Classic Rock, High Energy Dance, Pop, Rock


MTV's own MARTHA QUINN BAND is an 80's-RETRO DANCE BAND covering all of your favorite songs from the decadent era. From Journey and Pat Benatar to Motley Crue, Blondie and Madonna you will be transported back in time!!! With a strong emphasis on vocals you will be blown away by their 4-part harmony and strong focus on recreating all the top songs you loved and watched on MTV!!

Kimber Trotter is MQ's highly versatile and comedic female front who founded the band in 1998 when the group performed costumed as Madonna, Boy George, Billy Idol and Prince!! The band has had stories written about them in the St. Pete Times as well as an MTV interview where "THE" Martha Quinn herself (1 of 5 original VJ's from MTV 1981) commented that she was flattered the band uses her name!! The band often says, jokingly, that Martha Quinn is in the band but never shows up to any of the gigs!!!

Martha Quinn has opened for such acts as Frankie Goes to Hollywood, A Flock of Seagulls, The Fixx, and Modern English to name a few.

MQ's lineup includes keyboardist/guitarist/vocalist Richie Silva who is the band's musical director. Trotter and he have played In various projects together including 'MEDUSA" since the 80's as well as MQ's last lineup in 2005. Guitarist Steve Savas is an accomplished player and is the owner and guitar teacher at Universal Rock School in Largo, Florida and has placed in the top 10 in numerous worldwide guitar competitions such as Music Box and was named Sam Ash's Best in Shred Guitarist for 2010. Bassist Michael Beneduci has a 20-year history with Kimber and has performed with her in April Storm back in the early 90's and the original lineup of Martha Quinn in 1998. Eric Torgersen is MQ's drummer extraordinaire! Coming from two very successful bands in the Tampa Bay Area, The Hunks of Funk and The Untouchables, he rounds out this bands list of accomplished players!!

Martha Quinn is not only a musical act but they also incorporate a lot of comedic banter amongst themselves on stage and involve the audience in all the craziness!!!

Upcoming Events
There are no upcoming events scheduled.



Previous Events


Fri, September 11, 2015
9:30pm
New Port Richey

Sat, May 23, 2015
9:30pm
New Port Richey

Sat, May 16, 2015
7pm $no
Hudson

Sat, May 2, 2015
9:30pm
New Port Richey

Sat, April 25, 2015
9pm
Homosassa