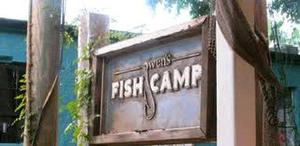 Owen's Fish Camp
516 Burns Lane
Sarasota, FL 34236
(941) 951-6936
Map View:
Click here
Located in the heart of Burns Court in Downtown Sarasota, Owen's Fish Camp is an ode to old Florida living. From the looming Banyan tree out front, given to Sarasota developer Owen Burns by Thomas Edison, to the tire swing out back, it is a restaurant full of history and Southern Hospitality. The casual atmosphere allows guests to relax and enjoy what makes Florida so special.

It wouldn't be called a fish camp if we weren't bringing in the Bay's local fish every day. Not only do we have fresh seafood but accompanying southern classics with a great craft beer and wine selection. Our friendly staff strives to match the delicious food with exceptional service to assure your visit to Owen's Fish Camp is second to none .

Upcoming Events
There are no upcoming events scheduled.



Past Events
Artist
Date
Lazy Daisies
Acoustic, Americana, Classic Rock, Indie
August 6, 2022
4:30pm - 9:00pm
$no cover
Blues Pig
Blues, Jazz, R&B/Soul
Blues Pig Debut at Ownen's Fish Camp Downtown Sarasota
July 30, 2022
4:30pm - 9:00pm
John Bastiani
Acoustic, Blues, Classic Rock, Rock
Take2 Duo
July 11, 2022
5:00pm - 8:30pm
$0
Lazy Daisies
Acoustic, Americana, Classic Rock, Indie
July 2, 2022
4:30pm - 9:00pm
$no cover
Lazy Daisies
Acoustic, Americana, Classic Rock, Indie
June 11, 2022
4:30pm - 9:00pm
$no cover