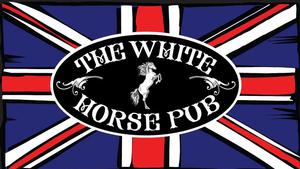 White Horse Pub
6240 N. Lockwood Ridge Road
Sarasota, FL 34243
(941) 358-1353
Map View:
Click here
Voted Sarasota's #1 British Pub & Restaurant! ?The best place in town to come for a warm & friendly welcome.? We can be found in the Parkway Collection Plaza, situated at the South East junction of University Parkway & North Lockwood Ridge Road. Tel: 941 358 1353
We specialize in delicious home-cooked British specialties, such as our acclaimed Fish & Chips, Steak & Guinness Pies & our Home Smoked British Back Bacon, smoked right here on the premises!
Try our famous Chicken Wings, Voted Best Wings in Town by Taste Magazine, also BEST wings in Sarasota by the Herald Tribune & The Bradenton Times!
Our freshly cooked 12" Flatbread Pizza?s also defy comparison.
A full range of Appetizers, Salads, Sandwiches, Desserts & Entree's are always on the Menu & are also available for Take-out. Our Chef continues to delight by always creating a range of daily 'specials' that appeal to even the most jaded palette. Come check out our Indian Curry night every Thursday night, all deliciously made by our famous chef's in the traditional Indian way! The best curry this side of Sarasota!
Try our Traditional Sunday Roast! Made in the traditional British way! The best in town!
Choose from 8oz Prime Rib Roast Beef or Roasted Chicken Breast or Boar?s Head fresh Turkey $16 Served with fresh broccoli, peas, honey roasted parsnip & carrots, roasted potatoes, Paxo stuffing, Yorkshire Puddings & REAL Bisto Gravy!
OPEN DAILY FROM 11AM UNTIL MIDNIGHT-2AM
We take great pride in the range of Import & Domestic beers that are always available & with an incredible range of 18 beers always on draught, 26 bottled beers, including a gluten free beer, along with the selection of fine wines & champagne, we are sure we can quench the most disenable thirst. Why not join us for ?Happy Hour?, 3-7pm every day with deals on beers & wine.
The comfortable Bar & Restaurant are decorated in an ?Olde English? style to create a relaxing atmosphere & the world famous Snug has a special ambience all of its own, with comfy leather couches & British papers. We have 7 H?Def widescreen TV?s, Full Sports channel's showing all Soccer, Cricket & Rugby in season, together with all the usual sports channels in the bar, so you never have to miss a game. Alternatively you may relax with an alfresco drink or perhaps a meal outside on the cool & shady patio area, where well-behaved dogs & smoking are permitted.
New!! Ask about what options we have for catering & delivery for offices, indoor & outdoor events.
Food Safe Certified & Insured freshly made daily at Sarasota?s Voted #1 Pub & Restaurant.
The White Horse Pub, 6240 N.Lockwood Ridge Road, Sarasota, Tel: 941 358 1353

Upcoming Events
There are no upcoming events scheduled.



Past Events


Sat, September 30, 2017
6:30-10:30
60's Beach Rock