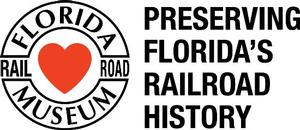 Florida Railroad Museum
12210 83rd Street East
Parrish, FL 34219
(941) 776-0906
Map View:
Click here
The Florida Railroad Museum, Inc. was founded as The Florida Gulf Coast Railroad Museum with the stated goal of preserving Florid's railroad history. Over the years, the Museum has aquired and restored rolling stock and equipment to operate for the public's enjoyment. We hope our visitors appreciate the sights and sounds of Florida railroading as it existed in the 1940's and 1950's.

The Museum enjoys non-profit status under section 501(c)(3) of the Internal Revenue Code.

Upcoming Events
There are no upcoming events scheduled.



Past Events
Artist
Date
Ari and the Alibis
Jazz, Latin, Pop, R&B/Soul
March 7, 2020
1:30-3:30pm Parrish Heritage Fest
Kim Betts Ensemble

March 7, 2020
1:00-1:30pm Parrish Heritage Fest
Hologram

March 7, 2020
11am-1:00pm Parrish Heritage Fest
301 Travelers
Classic Rock, Country, High Energy Dance, Southern Rock
March 2, 2019
3:00pm Chili Cook Off
Rosewood Creek
Alternative, Americana, Bluegrass, Classic Rock
March 2, 2019
2:00pm Chili Cook Off