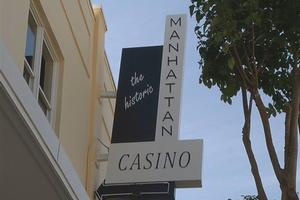 Manhattan Casino
642 22nd Street South
St. Petersburg, FL 33712
(727) 824-7221
Map View:
Click here
Built in 1925, the Manhattan Casino is significant for its contribution to entertainment and the culture in the African American community for more than forty years.

The Manhattan Casino is located along 22nd Street South in what was once a thriving "main street" of the City's African American community.

The Manhattan Casino was a showcase for local African American artists as well as a haven for traveling African American entertainers who would stop in St. Petersburg during their tours. Some of American music's most legendary performers played at the Manhattan including James Brown, Louis Armstrong, Fats Waller, Duke Ellington, Count Basie, Lionel Hampton, Cab Calloway, Ray Charles, Nat King Cole, Sarah Vaughn, Fats Domino and the Ink Spots.

Upcoming Events
There are no upcoming events scheduled.



Past Events



New Bluenotes, featuring Bernard Fullen, Jr. **Inactive as of 1/9/20
Sat, September 15, 2018
VIP 7:30PM/ Show starts at 9PM
R&B/Soul


1st Friday Live featuring John Lamb and Buster Cooper
Fri, January 2, 2015

1st Friday Jazz Concert & Dance featuring Shawn Brown, The Ashwood Jazz Project, Pro Jam Session, and showcasing Pryme Tyme Entertainment
Fri, December 5, 2014