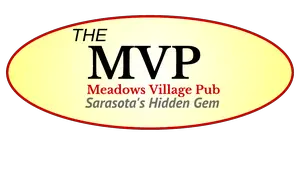 Meadows Village Pub & Grill
5013 Ringwood Meadows
Sarasota, FL 34235
(941) 342-5050
Map View:
Click here
Welcome to Sarasota's Hidden Gem ~ the local 'Cheers' bar, where you can dine, drink, dance with fun & friendly folks.

STARTING JUNE: CLOSED on SUNDAYS TILL OCTOBER.

OPEN 7 Days Now till June:
Monday-Sunday at 4 pm to close.

STARTING October: Breakfast and Lunch available~check out our facebook page and website for more details.

Happy Hour Drinks & Snacks Daily from 4 - 7 pm.

Come join us at our 'Cheers' style pub and restaurant where everyone does know your name. We have Karaoke Wednesdays from 7-10 pm, and live music from Thursdays to Saturday. This is Sarasota's Hidden Gem with Great food, Great drinks and Great people. Reservations are a MUST during season, by phone 941.342.5050 or online at MeadowsPub.com. Thank You and 'Feed You Soon'....

Upcoming Events
Artist
Date
Rockin' Robin
Beatles, Easy Listening, Pop, Rock
Thu, October 13
6:30pm - 10:00pm
Rockin' Robin
Beatles, Easy Listening, Pop, Rock
Thu, October 20
6:30pm - 10:00pm



Past Events
Artist
Date
Rockin' Robin
Beatles, Easy Listening, Pop, Rock
October 6, 2022
6:30pm - 10:00pm
Rockin' Robin
Beatles, Easy Listening, Pop, Rock
September 29, 2022
6:30pm - 10:00pm
Rockin' Robin
Beatles, Easy Listening, Pop, Rock
September 22, 2022
6:30pm - 10:00pm
Rockin' Robin
Beatles, Easy Listening, Pop, Rock
September 15, 2022
6:30pm - 10:00pm
Rockin' Robin
Beatles, Easy Listening, Pop, Rock
Rockin' Robin
September 8, 2022
6:30pm - 10:00pm
$no cover