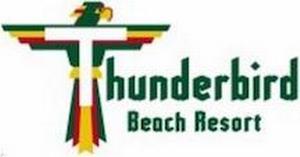 Thunderbird Ikki Woo Woo's Tiki Hut
10700 Gulf Blvd
Treasure Island, FL 33706
(727) 367-1961
Map View:
Click here
Ikki Woo Woo's Tiki Hut is located on beautiful Treasure Island at the Thunderbird Beach Resort. Serving up refreshing tropical cocktails.
Come enjoy a beautiful Florida sunset over the Gulf and sip on a drink made by one of our amazing bartenders!

Upcoming Events
There are no upcoming events scheduled.



Past Events
Artist
Date
Randy Meyers

September 30, 2022
12:00pm - 4:00pm
$No Cover
Mark Hanson
Acoustic, Country, Dead, Pop
September 30, 2022
4:30pm - 8:30pm
$No Cover
Boston Bob

September 29, 2022
4:00pm - 8:00pm
$No Cover
JC Unger
Classic Rock, Country, Easy Listening, Southern Rock
September 28, 2022
4:00pm - 8:00pm
$No Cover
Marko Coconut
Acoustic, Classic Rock, Rock, Surf Rock
September 27, 2022
4:00pm - 8:00pm
$No Cover