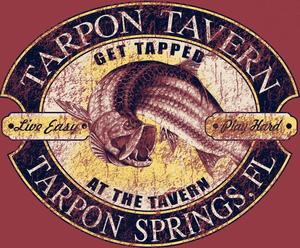 Tarpon Tavern
21 N. Safford Avenue
Tarpon Springs, FL 34689
(727) 945-1000
Map View:
Click here
Welcome to the Tarpon Tavern - Florida's Newest Old World Pub. We're located on the Pinellas Bike Trail (Safford Avenue) in a 1925 era building in historic downtown Tarpon Springs, Florida. The upscale English style pub will remind you of the old country or a little bit of the restaurant-bars from up north or out west with its warm, inviting colors and classy but comfy decor.
We have a fantastic outdoor cobblestone patio and a very cool turn-of-the-century but modern bar and dining area. We offer 30 beers on tap and feature the best local, national and international craft breweries. We also have a really good selection of wines and other nonalcoholic beverages.
Best of all we pride ourselves in exceptional food and service. We feature live music on the weekends so come join us for lunch, dinner or late night. Our kitchen is open til 11 during the week and 1 am on the weekends.

Upcoming Events
Artist
Date
Paul Angerosa
Acoustic, Alternative, Americana, Beatles
Fri, June 12
6 to 10
Paul Angerosa
Acoustic, Alternative, Americana, Beatles
Fri, June 19
6 to 10
Paul Angerosa
Acoustic, Alternative, Americana, Beatles
Fri, June 26
6 to 10



Past Events
Artist
Date
Paul Angerosa
Acoustic, Alternative, Americana, Beatles
Fri, May 29
6 to 10
Paul Angerosa
Acoustic, Alternative, Americana, Beatles
Fri, May 22
6 to 10
Paul Angerosa
Acoustic, Alternative, Americana, Beatles
Fri, May 15
6 to 10
Paul Angerosa
Acoustic, Alternative, Americana, Beatles
Fri, April 24
6 to 10
Paul Angerosa
Acoustic, Alternative, Americana, Beatles
Fri, April 17
6 to 10