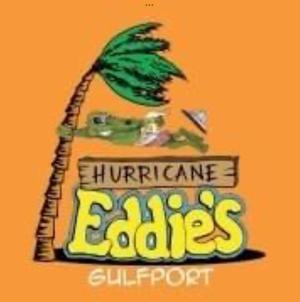 Hurricane Eddie's Gulfport
5413 Shore Blvd S.
Gulfport, FL 33707
(727) 592-4983
Map View:
Click here
Hurricane Eddie's Gulfport is a quaint, neighborhood bar that simply "Serves Up Fun." The indoor bar is a non-smoking, open air bar that has video games, pool tables, dart boards and flat screen TV's throughout with the NFL and MLB tickets for you to enjoy your favorite teams! We also have an indoor stage to continue with the live music venue tradition of Gulfport's nightlife.

The patio is completely dog friendly, on leash, as long as your dog is well behaved with others.

Upcoming Events
Artist
Date
The Rum Syndicate
Acoustic, Rockabilly, Surf Rock, Swing
Tommy & Mimi LIVE
Sun, October 8
12:00pm - 3:00pm
Modern Measure Band
High Energy Dance, Latin, Pop, Rock
Full Band
Fri, December 22
7:00pm - 11:00pm



Past Events
Artist
Date
Jam Jones
Funk, High Energy Dance, Jam Band, Rock
Jam Jones Blows into Hurricane Eddie's
September 22, 2023
7:00pm - 11:00pm
$Free
The Rum Syndicate
Acoustic, Rockabilly, Surf Rock, Swing
Tommy & Mimi LIVE at Hurricane Eddie's Gulfport
September 10, 2023
12:00pm - 3:00pm
The Rum Syndicate
Acoustic, Rockabilly, Surf Rock, Swing
Tommy & Mimi LIVE at Hurricane Eddie's
August 13, 2023
12:00pm - 3:00pm
The Rum Syndicate
Acoustic, Rockabilly, Surf Rock, Swing
The Rum Syndicate LIVE at Hurricane Eddie's Gulfport
July 9, 2023
2:00pm - 6:00pm
Bandemic
High Energy Dance, Pop, Rock
TGIF Pop Rock Dance Party
June 23, 2023
7:00pm - 11:00pm