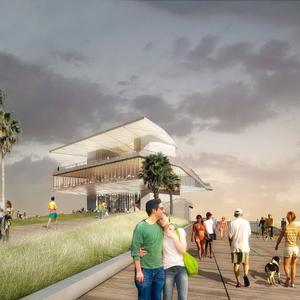 St. Pete Pier
800 2nd Ave NE
St. Petersburg, FL 33701
(727) 822-7248
Map View:
Click here
Over the years, some of the city's pier concepts have been more successful than others. But one thing seems beyond reproach: the new St. Pete Pier will be the city's most sprawling, activity-abundant, fun-filled, fully inclusive pier yet.

The new St. Pete Pier differs from its predecessors in a fundamental way. It is not a long, narrow passageway over water that motorists and pedestrians use to get to Pier Point, where all the action will take place. Instead, the new facility is a full-on 26-acre attraction that extends in all directions. The Pier experience begins at the Gateway, immediately west of Bayshore Drive, and there will be several ways for visitors to make their way out to the Pier Point. Along the way, a variety of stops and attractions will offer activities for people of all ages.

Upcoming Events
There are no upcoming events scheduled.



Past Events
Artist
Date
Kenny Mullins

July 12, 2020
3-8pm Grand Opening
La Lucha
Jazz
July 12, 2020
3-6pm Grand Opening
Noel Rochford Jungle Jam
Acoustic
July 12, 2020
noon-2pm Grand Opening
Kid Royal Band
Blues
July 12, 2020
noon-2pm Grand Opening
Speak Easy
Alternative, Jazz, R&B/Soul
July 11, 2020
5-8pm Grand Opening