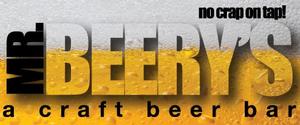 Mr. Beerys A Craft Beer Bar
2645 Mall Drive
Sarasota, FL 34231
(941) 343-2854
Map View:
Click here
Mr. Beery's is an intimate, no-smoking, craft beer haven...
Our motto, "No Crap On Tap" is well represented across the 24 draft lines of American Micro Brews and Specialty Imported Beers. Our draft offerings are a constantly rotating selection - once a keg is finished, we'll bring in another ale or lager.

We offer an extensive roster of bottled beer, as well, including seasonal beers, limited release "one-offs", hard to find beers from some of Florida's finest breweries, and session staples...
Wine, sake-tinis, cider, soda and water round out our libation selections....

Order food from one of twenty local restaurants that will deliver right to your bar stool...
Our "beer-tenders" are friendly and knowledgeable - eager to help the novice navigate their way to a new favorite brew and able to talk all-grain vs. extract, IBU's and ABV's with the beer connoisseur...
Stop in today for a pint or three...

Upcoming Events
There are no upcoming events scheduled.



Past Events
Artist
Date
Richard Open Mic
Acoustic, Blues, Classic Rock, Country
September 20, 2019
8PM
Richard Open Mic
Acoustic, Blues, Classic Rock, Country
September 13, 2019
8PM
Richard Open Mic
Acoustic, Blues, Classic Rock, Country
August 30, 2019
8:00pm
Richard Open Mic
Acoustic, Blues, Classic Rock, Country
August 23, 2019
8:00pm
Richard Open Mic
Acoustic, Blues, Classic Rock, Country
August 16, 2019
8:00pm