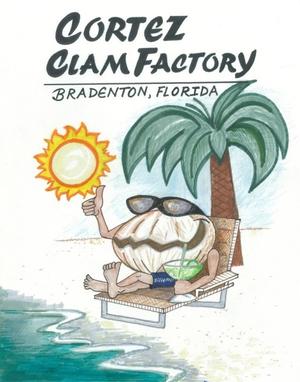 Cortez Clam Factory
10104 Cortez Rd. West
Bradenton, FL 34210
(941) 798-9898
Map View:
Click here
"Get Your Clam On" at Cortez Clam Factory.
David Sadler and Randy Ellis, co-owners of Cortez Clam Factory, 10104 Cortez Rd., and former restaurateurs, seek to give patrons something more than wings, fries and burgers to stifle those post-boozing hunger pains.
But anything less than quality seafood won't cut it for these guys. After all, the Clam Factory isn't far from the historic Cortez Fishing Village, where locals know the difference between super and subpar seafood. It serves Joe Island clams, a locally raised product and one of the best. The stone crabs, like other seafood selections, are direct from Cortez itself. They buy local seafood, and rarely is any of it frozen.
Located in the San Remo Shores area, about a mile down the road from Cortez Fishing Village. This eatery/watering hole forgoes the posh nightclub vibe in favor of a more down-home pace, but it is still plenty tropical.
The Clam Factory books a steady stream of Sarasota and Bradenton-based bands.
This 'Five Star Dive' Bar has some of the best Music, Food and Service on the West Coast of Florida!
"It didn't occur to us before but takeout from here is an awesome alternative to Chinese or pizza. We got crab fritters ribs and much more."
It is locally owned and the owners combine 100 years of experience in the seafood business in order to give great food at the best price in town. On top of the excellent food, there is much to keep you entertained.

Upcoming Events
Artist
Date
Brian McCarthy
Acoustic, Classic Rock, Contemporary, Country
Sat, December 2
5:30pm - 8:30pm
NFL Sunday/Special Menu

Sun, December 3
11:30am - 11:30pm
The Masons
Acoustic, Americana, Beatles, Bluegrass
Thu, December 7
05:30 PM - 08:30 PM
$No Cover
Terry B. Helm
Acoustic, Country, Rock, Rockin Blues
Fri, December 8
5:30pm - 8:30pm
June & John

Sat, December 9
5:30pm - 8:30pm
NFL Sunday/Special Menu

Sun, December 10
11:30am - 11:30pm
John Ford
Acoustic, Blues
John Ford @ Cortez Clam Factory
Thu, December 14
5:00pm - 7:00pm
$No Cover
June & John

Fri, December 15
5:30pm - 8:30pm
Larry Yunker

Sat, December 16
5:30pm - 8:30pm
NFL Sunday/Special Menu

Sun, December 17
11:30am - 11:30pm
Brian McCarthy
Acoustic, Classic Rock, Contemporary, Country
Thu, December 21
5:30pm - 8:30pm
The Masons
Acoustic, Americana, Beatles, Bluegrass
Fri, December 22
05:30 PM - 08:30 PM
$No Cover
David Marsh

Sat, December 23
5:30pm - 8:30pm
NFL Sunday/Special Menu

Sun, December 24
11:30am - 11:30pm
Board Walk Baby

Thu, December 28
5:30pm - 8:30pm
Terry B. Helm
Acoustic, Country, Rock, Rockin Blues
Fri, December 29
5:30pm - 8:30pm
Scotty Yates
Acoustic, Americana, Classic Rock, Rock
Sat, December 30
5:30pm - 8:30pm
June & John/New Year's Eve

Sun, December 31
9:00pm - 12:00am
John Ford
Acoustic, Blues
John Ford Blues
Thu, January 11
5:30pm - 8:30pm
$No Cover



Past Events
Artist
Date
David Marsh

November 30, 2023
5:30pm - 8:30pm
Scotty Yates
Acoustic, Americana, Classic Rock, Rock
November 25, 2023
5:30pm - 8:30pm
Larry Yunker

November 24, 2023
5:30pm - 8:30pm
Deej

November 18, 2023
5:30pm - 8:30pm
Joe Smothers
Acoustic
November 17, 2023
5:30pm - 8:30pm