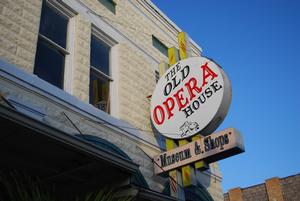 Heard Opera House
106 W Oak St
Arcadia, FL 34266
(863) 444-6570
Map View:
Click here
The Arcadia Opera House, built in 1906, is a museum and enormous antique shop. It houses an amazing collection of historical items and the theater is in near original condition. Several paranormal investigations have taken place there and the Opera House is a well know haunted location.

The building was brought back to life in 2021 after sitting idle for over 60 years! It has reinspired downtown Arcadia and brings people to town. The building is used for a variety of community events as well as studio projects for children.

Upcoming Events
There are no upcoming events scheduled.



Past Events
Artist
Date
Jeremy's Ten Pearl Jam Tribute UNPLUGGED

August 26, 2023
7:00pm - 10:00pm
$Yes
Mac Martin
Acoustic, Americana, Classic Rock, Folk
Five Songwriters Mac Martin, Beth Travers, James Hawkins, Ray Boone and John Bois
June 10, 2023
7:00pm - 10:00pm
$20
Doug Burns
Acoustic, Americana, Classic Rock, Country
Doug Burns & St. David
May 12, 2023
8:00pm - 10:00pm
$10
Ariella and Nicolaas
Acoustic, Jazz, Latin, R&B/Soul
Ariella at Heard Opera House
May 6, 2023
8:00pm - 10:00pm
$20
RJ Howson
Blues, Jam Band, Rockin Blues, Southern Rock
RJ Howson, Mike Kach & An All Star Band
April 22, 2023
8:00pm - 11:00pm