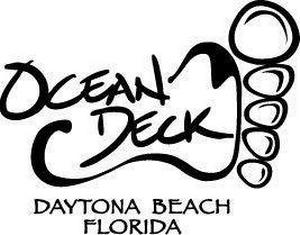 Ocean Deck
127 S Ocean Ave
Daytona Beach, FL 32118
(386) 253-5224
Map View:
Click here
n 1957, Ocean Deck started as a simple hot dog stand. Standing alone in a sparsely populated Daytona Beach, beachgoers kept "The Deck" busy.

Dick Keough bought Ocean Deck in 1980. He added a full menu including killer Mahi Mahi and created our favorite drinks like Red Tide. With live Reggae music nightly, he slowly turned Ocean Deck into the hot spot we all love. Being the only restaurant and beach bar actually ON the beach he created a unique Caribbean atmosphere. Volleyball games and bathing beauties filled the beach. The term "No shoes, No shirt, No problem" was the everyday rule!

In 2012 Mr. Keough started to enjoy a well deserved retirement. However, the traditions that have made Ocean Deck the legend that it is, keep going. With a new Beach Stage and Tiki Bar, we will all keep "dancing in the sand with a drink in our hand"! Well known beach activities continue with our Music Festivals, Volleyball tournaments, 5k fun runs, and many events that give back to the community.

Ocean Deck, "The Legend on the Beach" is home to our Ocean Deck Family. Welcome to our little piece of paradise!

Upcoming Events
There are no upcoming events scheduled.



Past Events