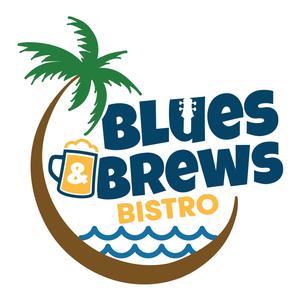 Blues & Brews Bistro
790 S Atlantic Ave
Ormond Beach, FL 32176
(386) 267-2020
Map View:
Click here
OCEANVIEW AND SUNSET VIEW RESTAURANT AND BLUES BAR

We are the ONLY place in Ormond beach with a bird's eye view of the Ocean during the day and a spectacular Sunset view at night! Oceanview, good drinks, good food and a sunset.

Every Thursday, Friday and Saturday we have LIVE BLUES MUSIC!

Upcoming Events
Artist
Date
JP Soars and The Red Hots
Blues, Rockin Blues
Sat, September 30
7:00pm - 10:00pm
JW Gilmore & the Blues Authority

Fri, October 6
6:00pm - 10:00pm
Matthew Curry
R&B/Soul, Rockin Blues
BAND
Sat, October 7
07:00 PM - 10:00 PM
Double Deuce

Sun, October 8
1:00pm - 4:00pm
The Cosmic Jam

Grateful Dead Cover Band
Thu, October 12
7:00pm - 10:00pm
Blu Highway Band

Fri, October 13
6:00pm - 10:00pm
Chris O'Leary Band
Blues
Sat, October 14
7:00pm - 10:00pm
David Julia Solo

Acoustic blues
Sun, October 15
1:00pm - 4:00pm
Billy The Kid & The Regulators
Blues
Wed, October 18
6:00pm - 10:00pm
Slim and The Perkolators
Blues
Thu, October 19
6:00pm - 10:00pm
Kurt Allen Band
Blues
Fri, October 20
8:00pm - 11:00pm
Sister Lucille
Blues
BAND
Sat, October 21
07:00 PM - 10:00 PM
Beartoe
Americana, Blues, Southern Rock
Soloist
Sun, October 22
1:00pm - 4:00pm
Joe Motte & Friends

Wed, October 25
6:00pm - 9:00pm
Ray Fuller & the BluesRockers
Blues
Sat, October 28
7:00pm - 10:00pm
Geminii Dragon
Blues
Fri, December 29
6:00pm - 10:00pm



Past Events
Artist
Date
Joe Survival Caruso

September 29, 2023
6:00pm - 10:00pm
Grindstone Sinners
Blues, Indie, Jam Band, Rockin Blues
September 28, 2023
6:00pm - 10:00pm
Big Al and the Heavyweights
Americana, Blues, R&B/Soul
September 23, 2023
6:00pm - 10:00pm
Lower Jackson Band

September 22, 2023
6:00pm - 10:00pm
Smokestack

Allman Brothers tribute
September 21, 2023
6:00pm - 10:00pm