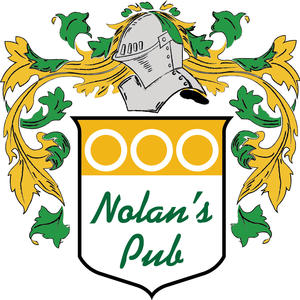 Nolan's Pub
230 A Main St
Safety Harbor, FL 34695
(727) 400-6998
Map View:
Click here
Nolan's Pub is on Main St in Safety Harbor. We were voted as TBT's Best of the Bay in 2012,2013, 2014 and 2015.

Nolan's Pub is about fun, relaxation and socializing. We have 22 beers on tap. Also plenty of beer and wine available in the bottle.

Plenty of TV's to catch the game. Giant Jenga and connect four. Open Jam on Thursday. We have our own sound system and mixer so all you will need to bring is a guitar. Live music every Friday and Saturday. Trivia with physical challenges on Tuesday. Bingo on Monday. Wheel Wednesday. Sunday Funday. Cheers!

Upcoming Events
Artist
Date
Mitch Patti

Fri, December 8
9:00am - 12:00pm
Keegan Ritz

Sat, December 9
8:00pm - 11:00pm
Jack Anderson
Americana, Pop, Rock
OPEN MIC NIGHT
Thu, December 14
7:30pm - 10:30pm
The Cats Band
Classic Rock
Fri, December 15
8:00pm - 11:00pm
Emerson Moore

Sat, December 16
9:00pm - 12:00am
Jack Anderson
Americana, Pop, Rock
OPEN MIC NIGHT
Thu, December 21
7:30pm - 10:30pm
Shawn O

Fri, December 22
9:00pm - 12:00am
Brittany Baldwin
Acoustic, Classic Rock, Country, R&B/Soul
Sat, December 23
9:00pm - 12:00am
Jack Anderson
Americana, Pop, Rock
OPEN MIC NIGHT
Thu, December 28
7:30pm - 10:30pm
Brian Caudill
Acoustic, Country, Folk, Rock
Brian & Bella Duo
Fri, December 29
9:00pm - 12:00am
Western Gypsies

Sat, December 30
9:00pm - 12:00am
Doc and Sherry
Acoustic, Blues, R&B/Soul, Rock
A Special New Years Eve with Doc & Sherry
Sun, December 31
9:00pm - 12:00am
Jack Anderson
Americana, Pop, Rock
OPEN MIC NIGHT
Thu, January 4
7:30pm - 10:30pm
Gulf Coast Highway
Acoustic, Americana, Classic Rock, Pop
Gulf Coast Highway
Fri, January 5
9:00pm - 12:00am
Jack Anderson
Americana, Pop, Rock
Gulf Coast Highway
Fri, January 5
9:00am - 12:00pm
Zach Evans

Sat, January 6
9:00pm - 12:00am
Beach Cobras

Fri, January 12
9:00pm - 12:00am
Keegan Ritz

Sat, January 13
8:00pm - 11:00pm
The Cats Band
Classic Rock
Fri, January 19
8:00pm - 11:00pm
Mandala Sky
Rock, Rockin Blues, Southern Rock
James Barker Solo
Sat, January 20
9:00pm - 12:00am
Shawn O

Fri, January 26
9:00pm - 12:00am
Brittany Baldwin
Acoustic, Classic Rock, Country, R&B/Soul
Sat, January 27
9:00pm - 12:00am



Past Events
Artist
Date
Jack Anderson
Americana, Pop, Rock
OPEN MIC NIGHT
December 7, 2023
7:30pm - 10:30pm
Hazel Nicole

December 2, 2023
9:00pm - 12:00am
Jack Anderson
Americana, Pop, Rock
Gulf Coast Highway
December 1, 2023
9:00pm - 12:00am
Gulf Coast Highway
Acoustic, Americana, Classic Rock, Pop
December 1, 2023
9:00pm - 12:00am
Jack Anderson
Americana, Pop, Rock
OPEN MIC NIGHT
November 30, 2023
7:30pm - 10:30pm