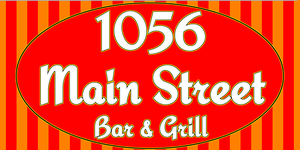 1056 Main Street Bar & Grill
1056 Main Street
Dunedin, FL 34698
(727) 687-3231
Map View:
Click here
We proudly serve old school American classic food and beverages in a new school fun way! We are a small woman-owned corporation and business born and raised right here in our beautiful beach side cozy hometown, Dunedin!

Our mission is to create amazing meals and even more amazing memories for our community, simple as that. We strive to make a safe, accessible, and friendly environment for all where we can share laughs and great times.

We believe in the beauty of Dunedin's old soul, where everyone knows your name, and people matter most of all. We're all about good vibes, full bellies, and fun.  

Upcoming Events
Artist
Date
Hold A Grunge
Acoustic, Alternative, Rock
Hold A Grunge
Thu, August 18
6:00pm - 9:00pm
Ron and the Classics
Classic Rock, Pop, Swing
Ron and the Classics
Fri, August 19
6:00pm - 9:00pm



Past Events
Artist
Date
Jus Jeff
Blues, Country, Rock, Southern Rock
Jus Jeff
August 17, 2022
6:00pm - 9:00pm
King of Dance, Sing & Swing Bill Castner
Swing
King of Dance, Sing & Swing Bill Castner
August 14, 2022
5:00pm - 8:00pm
Michael Nichols

Michael Nichols
August 11, 2022
6:00pm - 9:00pm
King of Dance, Sing & Swing Bill Castner
Swing
King of Dance, Sing & Swing Bill Castner
August 7, 2022
6:00pm - 9:00pm
Ron and the Classics
Classic Rock, Pop, Swing
Ron and the Classics
August 5, 2022
6:00pm - 9:00pm