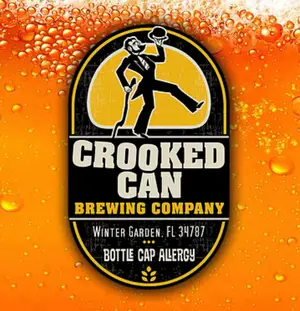 Crooked Can Brewing Company
426 West Plant Street
Winter Garden, FL 34787
(407) 395-9520
Map View:
Click here
A craft brewery located inside of the Plant St. Market in Downtown Winter Garden with a #BottleCapAllergy.

OUR VISION AND MISSION
The longer then; and less Short of it: more about us and our undertaking
Built upon the founder's passion for craft beer, Crooked Can Brewing Company is local Craft Brewery located inside Plant St. Market in Historical Downtown Winter Garden Florida. Our brewery's goal is to represent a unique image and create a cultural following for a way of life. The brand represents a free spirit, laid-back approach, but with a purpose! We produce quality craft beer consistently, with excellent taste and unique quality. The brewing process is monitored under the close personal attention of our award winning and experienced brew masters to ensure the vision is reached batch after batch using traditional brewing methods. The Brewery has an onsite tap and tasting room featuring 6 flagship brands in addition to many other limited edition, seasonal, and specialty batches.

Upcoming Events
Artist
Date
Live Music on the Patio

Fri, May 20
6:00pm - 9:00pm
Live Music on the Patio

Sat, May 21
1:00pm - 4:00pm
Live Music on the Patio

Sat, May 21
6:00pm - 9:00pm
Live Music on the Patio

Fri, May 27
6:00pm - 9:00pm
Live Music on the Patio

Sat, May 28
1:00pm - 4:00pm
Live Music on the Patio

Sat, May 28
6:00pm - 9:00pm



Past Events
Artist
Date
Live Music on the Patio

May 14, 2022
6:00pm - 9:00pm
Live Music on the Patio

May 14, 2022
1:00pm - 4:00pm
Live Music on the Patio

May 13, 2022
6:00pm - 9:00pm
Live Music on the Patio

May 7, 2022
6:00pm - 9:00pm
Live Music on the Patio

May 7, 2022
1:00pm - 4:00pm