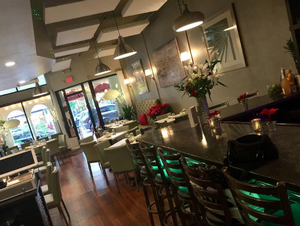 Nicky's On Palm Ave.
49 S Palm Ave
Sarasota, FL 34236
(941) 330-1727
Map View:
Click here
Located right in downtown Sarasota (Historic Miramar building) on Palm avenue, and a walking distance from a trendy Aloft Hotel to the south, ArtOvation Hotel to the west and close proximity to the Ritz Carlton and Westin hotel. Nicky's is truly a hidden gem.

Stylish, Chic, And Sophisticated

Our music scene changes throughout the week and often, but we always have some sort of live performers. Whether it be a classic rock solo artist, a flamenco guitarist or a live DJ with drummers, these performers are a show on their own. Smoking is permitted at outside seating areas.

Upcoming Events
Artist
Date
T-Bone Terry Rhodes

Tuesday Mingle with T-bone and Brenda Watty
Tue, March 28
7:00pm - 10:00pm
$5
Al Fuller's Moonlight Movers
Blues, Classic Rock
Al Fuller's Famous Blues Jam
Wed, March 29
7:30pm - 10:30pm
$5
Synia Carroll Band
Jazz
Synia Carroll
Thu, March 30
7:00pm - 10:30pm
$10
Sammy J & the Saxman
Blues, Classic Rock, DJ/Dance/Electronic, R&B/Soul
Sammy J and Sal Sax
Fri, March 31
7:30pm - 10:30pm
$5
Brenda Watty & Her Peeps
R&B/Soul
Brenda Watty and Al Cohen
Sat, April 1
6:30pm - 9:30pm
$5
Tuesday Mingle with T-bone and Brenda Watty

Tuesday Mingle with T-Bone and Brenda Watty
Tue, April 4
7:00pm - 10:00pm
$5
Al Fuller's Moonlight Movers
Blues, Classic Rock
Al Fuller's Famous Blues Jam
Wed, April 5
7:30pm - 10:30pm
$5
Al Fuller's Moonlight Movers
Blues, Classic Rock
Al Fuller's Famous Blues Jam with the Moonlight Movers
Wed, April 5
7:30pm - 10:30pm
$Yes
Sammy J & the Saxman
Blues, Classic Rock, DJ/Dance/Electronic, R&B/Soul
Sammy J and Sal Sax
Fri, April 7
7:30pm - 10:30pm
$5
Brenda Watty & Her Peeps
R&B/Soul
Brenda Watty and Al Cohen
Sat, April 8
6:30pm - 9:30pm
$5
Al Fuller's Moonlight Movers
Blues, Classic Rock
Al Fuller's Famous Blues Jam with the Moonlight Movers
Wed, April 12
7:30pm - 10:30pm
$Yes
Brenda Watty & Her Peeps
R&B/Soul
Brenda Watty and Al Cohen
Sat, April 15
6:30pm - 9:30pm
$5
Al Fuller's Moonlight Movers
Blues, Classic Rock
Al Fuller's Famous Blues Jam with the Moonlight Movers
Wed, April 19
7:30pm - 10:30pm
$Yes
Al Fuller's Moonlight Movers
Blues, Classic Rock
Al Fuller's Famous Blues Jam with the Moonlight Movers
Wed, April 26
7:30pm - 10:30pm
$Yes
Al Fuller's Moonlight Movers
Blues, Classic Rock
Al Fuller's Famous Blues Jam with the Moonlight Movers
Wed, May 3
7:30pm - 10:30pm
$Yes
Al Fuller's Moonlight Movers
Blues, Classic Rock
Al Fuller's Famous Blues Jam with the Moonlight Movers
Wed, May 10
7:30pm - 10:30pm
$Yes



Past Events
Artist
Date
Pistols and Pearls

Pistols and Pearls with Brenda Watty and Teresa Farris
March 25, 2023
06:30 PM - 09:30 PM
$10
Sammy J & the Saxman
Blues, Classic Rock, DJ/Dance/Electronic, R&B/Soul
Sammy J and Sal Sax
March 24, 2023
7:30pm - 10:30pm
$5
Al Fuller's Moonlight Movers
Blues, Classic Rock
Al Fuller's Famous Blues Jam
March 22, 2023
7:30pm - 10:30pm
$5
Comedy night

Comedy Night
March 21, 2023
7:00pm - 10:00pm
$5
Brenda Watty & Her Peeps
R&B/Soul
Brenda Watty and Al Cohen
March 18, 2023
6:30pm - 9:30pm
$5