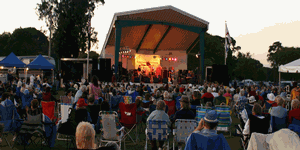 England Bros. Bandshell
5010 81st Avenue N.
at 49th Street
Pinellas Park, FL 33781
727-369-5746
Map View:
Click here
England Brother's Park is home to Pinellas Park's signature events, Country in the Park and the Firefighters' ChiliBlaze held the third weekend in March each year.

England Brother's Park is perfect for outdoor music festivals and cultural events. The eleven acre park boasts a permanent stage with dressing area.

Public restrooms are on site and will accommodate large and small events. The park is available for public and private events and is centrally located at 49th street and 81st Avenue North., with easy access from anywhere in the Tampa Bay area.

Upcoming Events
There are no upcoming events scheduled.



Past Events
Artist
Date
The Band Grounded

Pinellas Pepper Fest
April 2, 2023
3:00pm - 5:00pm
Infinite Tilt

Pinellas Pepper Fest
April 2, 2023
11:00 AM - 01:00 PM
The 727s Band
Classic Rock, Country, High Energy Dance, Rock
Pinellas Pepper Fest
April 1, 2023
03:00 PM - 05:00 PM
Tommy & Mimi

Pinellas Pepper Fest
April 1, 2023
11:00am - 1:00pm
$Yes
Longneck, The Band Grounded

Pinellas Taco Fest
January 29, 2023
2:00pm - 4:00pm
$0