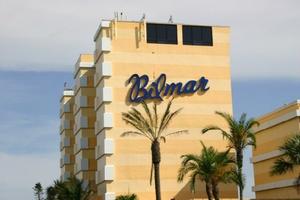 Bilmar Beach Resort
10650 Gulf Blv.
Treasure Island, FL 33706
(727) 360-5531
Map View:
Click here
Whether you're a guest of the Bilmar Beach Resort or just looking for an authentic Floridian eatery, Sloppy Joe's on the Beach Restaurant is the place for you! This unique beachfront restaurant serves lunch and dinner daily, with fresh Key West-inspired dishes and other Southerns seafood favorites. Entrees include the popular Grouper, Jumbo Lump Crab Cakes and the ever-favorite Seafood Chowder and Lobster Bisque. The outside patio of Bazzie's Beach Bar overlooks the Gulf and the air conditioned indoor dining rooms overlooks the beach and our pool area; making it the perfect location for any time of day. Guests of the Bilmar enjoy sunrise breakfasts by the beach, relaxed lunches, extremely romantic dinners and evening cocktails. The live evening entertainment and the oceanfront atmosphere creates an ambiance that can only be described as casual and fun? It's just what visitors of Treasure Island love about the Bilmar. Bazzie's is open from 7 a.m. to 10 p.m. daily

Upcoming Events
There are no upcoming events scheduled.



Past Events


Fri, February 21, 2020
6:00pm to 10:00pm
60's Beach Rock

Fri, February 14, 2020
6:00pm to 10:00pm
60's Beach Rock

Fri, February 7, 2020
6:00pm to 10:00pm
60's Beach Rock

Fri, January 31, 2020
6:00pm to 10:00pm
60's Beach Rock

Fri, January 24, 2020
6:00pm to 10:00pm
60's Beach Rock