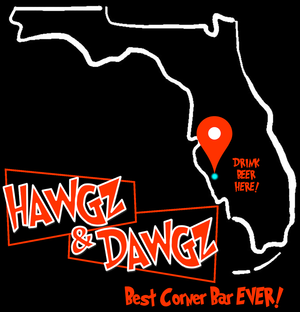 Hawgz & Dawgz
12459 Tamiami Trl
Punta Gorda, FL 33955
() -
Map View:
Click here
We embarked on this adventure on July 1st, 2017. We leased the historical building in Tropical Gulf Acres, which was previously the location of a tavern called OUR PLACE. We knew the place was well liked, despite its unpredictability and chaotic representation. Since the day we took over, we have had random visitors each and every time we have been there remodeling. These visitors range from neighbors to previous customers; from bikers to snowbirds; from friends to future business associates. It has been an incredible and very exciting five months. People are so encouraging and enthusiastic to see our progress, and are filled with anticipation of our opening.
We can finally see the light at the end of the tunnel. We anticipate opening around the start of the new year. We have so many ideas for fun, and we are thrilled to have our friends, family and future customers participating in the planning of these ideas. Just a few things to look forward to include cold beer and craft beer promotions and events, generous snacks, live music, community gatherings, a doggie rest area, and many many more!
We are so very grateful to everyone that has helped us get to this point.We have had countless volunteers help us rebuild and renew this building, and just overall support for our relentless efforts to make it all happen. We can never thank you enough! See you there....

Upcoming Events
There are no upcoming events scheduled.



Past Events


Sat, June 15, 2019
2:00 pm - 5:00 pm
Acoustic



Sat, April 28, 2018
2:00 pm - 5:00 pm
Acoustic