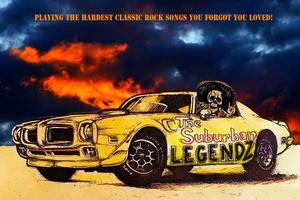 The Suburban Legendz
Classic Rock, Metal, Rock

The Suburban Legendz are a Classic Hard Rock band based in West Central Florida. The band is comprised of seasoned and talented musicians hailing from various parts of the U.S.A. that, despite their musical backgrounds, have all had a love for the legendary music created by the iconic Rock Groups of the 70's and 80's. Formed with the vision of re-creating these classic tunes faithfully, as well as putting a little of their own spin on it, The Suburban Legendz have a sound that any fan of the music of this era will love. Throw in a few surprises, as well as some groove-laden danceable rock and a bit of humor for good measure and you have The Suburban Legendz experience. When you come to The Suburban Legendz show don't expect to hear the same old tired Classic Rock songs that a lot of other bands do. While these songs may be very popular and are considered "standards" by many, the members of The Suburban Legendz formed the group with the goal of performing songs from the bands that you loved that are nearly as familiar but by no means overplayed. Their goal as a group is to make you say "I remember that one. I LOVE that one!!!". Simply stated, they play the songs that you forgot you love! So stay tuned to this Facebook page for upcoming events and come on out for a great night of unforgettable guitar-charged Rock-n-Roll with The Suburban Legendz!

Upcoming Events



Previous Events