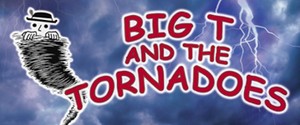 Big T & the Tornadoes
Blues , Funk , R&B/Soul , Rock , Rockin Blues , Swing

Big T and The Tornados are a hard driving, high energy Chicago style R & B Band that crosses over from Traditional Blues, to modern progressive Blues as well as Funk, Soul and Reggae. Big T and The Tornadoes are comprised of five veteran musicians who are all extremely talented and accomplished at their trade.

Upcoming Events
There are no upcoming events scheduled.



Previous Events


Wed, February 12, 2020
7:00-11:00pm
Sarasota

Wed, January 8, 2020
7:00 - 11pm
Sarasota

Wed, December 11, 2019
7:00-11:00pm
Sarasota

Wed, November 13, 2019
7:00-11:00pm
Sarasota

Wed, October 9, 2019
7:00-11:00pm
Sarasota