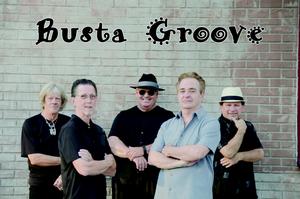 Busta Groove
Blues, Funk, Jazz, R&B/Soul

Busta Groove is High Energy... We deliver the finest in Funk, Soul, R&B as well as Chicago Blues and Rock "n" Roll.... The Band is comprised of 5 extremely talented musicians whose musical tastes hail from different areas of the U.S. Both Drummer Art Tanturri and Singer Tim (Big T) Calandra are from New York . From Seattle Washington is former Tower of Power Guitarist Danny Hoefer. On Keyboards and Vocals a New Jersey native is Clay Cropper. Clay has played with so many great artists such as Wilson Pickett, Ike & Tina Turner, James Brown, Jackie Wilson and K C and The sunshine band just to name a few... Bass Guitar as well as Vocals features The Home of Rock "n" Roll, Cleveland's own Tony Camerato. Be it funk, soul, blues, r & b or rock "n" roll Busta Groove will give you some of Sarasota's best....

Upcoming Events
There are no upcoming events scheduled.



Previous Events