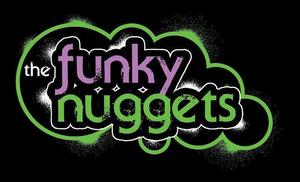 Funky Nuggets
Funk, Jam Band, Rock


From Palm Beach County.

The Funky Nuggets were formed in early 2010, stemming out of Palm Beach, FL. Originally, a three piece band, they tore into the South Florida jam band scene with great haste. Now a 5 piece, this is a band that not only has traditional lyrical rock/funk songs but dance party instrumentals as well. With the help of their very loyal and daily growing fan-base, they have gained much respect and recognition in the Florida music scene in a short amount of time. With their eclectic backgrounds, youthful energy and purveyance of love for their art, they have become an enticingly interesting formula. Listeners are enthralled by their passion and ability, while left fiending for more of The Funky Nuggets.

Upcoming Events
There are no upcoming events scheduled.



Previous Events


Sat, May 19, 2018
2:25pm-3:25pm OBJ Citrus $Tickets
Brooksville

Fri, September 18, 2015
7:00 pm
Lakeland

Thu, September 17, 2015
8 pm
Dunedin

Thu, May 14, 2015
8:30pm Oraange Blossom Jamboree $Tickets
Brooksville