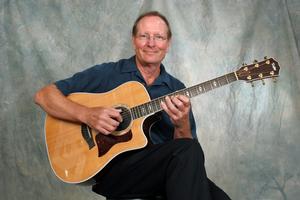 Dan Crawford
Acoustic, Blues, Classic Rock, Contemporary
Based in the Sarasota/Tampa Bay area, Dan has two solo albums
to his credit, both released through his own publishing company,"Moving Target Music" on "Lunar Tunes Records." He has won four honorable mention awards for his songwriting including
"Welcome to the Real World" and "Live Wire" from his first release entitled "Present Tense", and "One Owner" and
"Hate to See You Go (But I Love To Watch You Walk Away)" from his second CD, "Frame of Mind". He also is a founding member of The Tapwater Conchs whose Cd depicts the party life of Key West.
"Crawford's style is reminiscent of Southern jazz, but uniquely his own. Dan has opened shows for such major acts as Gregg Allman, Firefall, and The Coasters.
A popular performer at beach and night spots throughout Florida, as well as private functions, Dan implements his show with a self-sequenced midi backup and also performs with his live band MOVING TARGET.
Click on Dan's website to see where he is performing tonight!


Upcoming Events



Previous Events